By Tejay Cleland, Sports Editor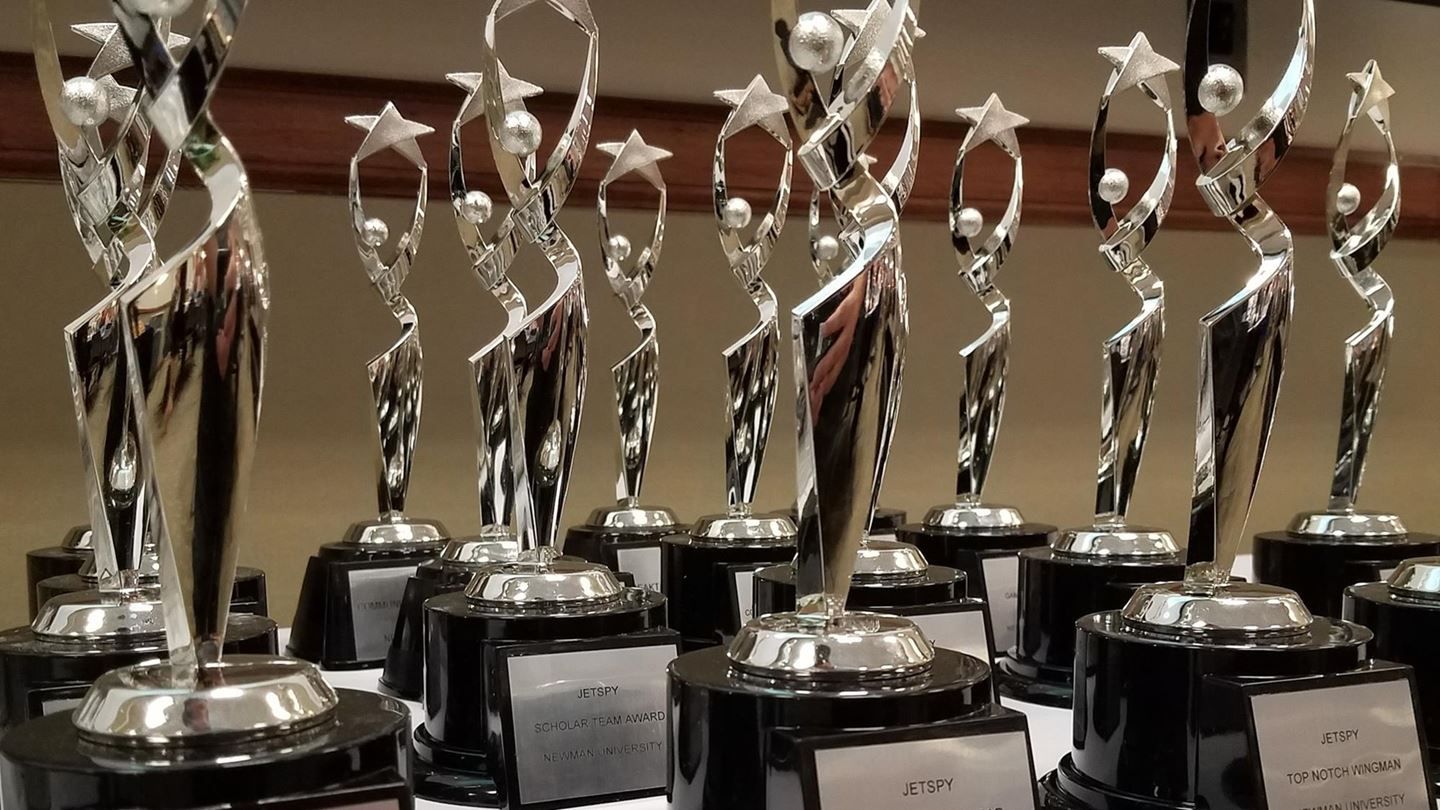 Newman University's annual student-athlete awards banquet will return after not being held last spring because of COVID-19. The Jetspys, which are put on by the Student-Athlete Advisory Committee to honor Newman's student-athletes, is named after ESPN's award show, the ESPYs. The doors open for the event at 5:45  p.m. on April 27 in Mark Potter Gymnasium.
Athletes vote for the winners in each category that is awarded at the Jetspys. The major awards are male   athlete of the year and female athlete of the year. Sophomore Hayden VanDePol (baseball), junior Kameron Frame (wrestling), junior Ignacio Lerech (soccer), senior Alex Ultreras (cross country), junior Joel Boyce (basketball) and senior Teodor Antelj (tennis) are the nominees for male athlete of the year. Female athlete of the year candidates are junior Trinity Conley (volleyball), senior Leanne Vastbinder (bowling), senior Haley Albers (basketball), junior Jordan Ashworth (soccer), senior Lauren Nutting (cross country) and senior Julia Korus (golf).
There are also awards for "Mr. Jet" and "Ms. Jet," given to the student-athletes who represent Newman well with all-around excellence in athletics, academics, character and service. Other awards include play/performance of the year, rookie of the year and the "special ops award," which is presented to the faculty/staff member judged to have worked the most to support Newman's student athletes.
The Jetspys is a dress-up event for the athletes, who are not permitted to wear jeans. Associate Athletic Director Maureen Rohleder said Newman athletes have always looked forward to the Jetspys and like to sport their nice attire.
"Once they have been to one and experienced it, they can't wait to dress up and attend," she said. "We try to make it like a red carpet and let people see your red carpet wear."
Rohleder said that not having the awards last year was disappointing but that SAAC tried to salvage it as much as they could by posting awards online.
"We didn't want athletes to go totally unnoticed because there were practices and games up until the pandemic," Rohleder said. "I think that's why there's more excitement this year because we can actually be with each other."
Rohleder said the Jetspys meal will begin at 6:30 p.m. and will be provided by Great Western Dining Service. The awards ceremony will commence at 7 p.m. The event is open to only Newman athletes to attend, and tickets are not needed to attend.
PHOTO: Courtesy Photo, Newman Athletics