By Madeline Alvarez, Editor-In-Chief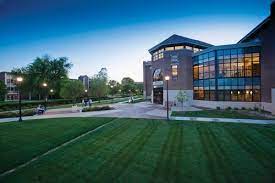 Newman wants to know why students decide not to live on campus.
So two administrators — Dean of Students Christine Schneikart-Luebbe and Interim Director of Residence Life Turner Middendorf — recently organized an invitation-only meeting with a small group of students to gather feedback.
By the end of the meeting, which happened on Monday, Schneikart-Luebbe said she would seriously consider all of the group's ideas for improving campus life, including the possibility of adding a small fitness center in Merlini, attracting residents with giveaways and offering on-campus students storage options.
Nine students in all attended the meeting. Three were commuter students and six were on-campus students, including some RAs. Schneikart-Luebbe said that more students were invited, and some RSVPed but didn't show up.
Among the ideas that were discussed at the meeting were:

An on-campus fitness center
SGA President Gabrielle Altenor mentioned that the student center at Newman doesn't have some of the same amenities as other schools and said that having a fitness center with dumbbells, a bike, a treadmill, medicine balls and kettlebells would be useful. She said it's a project she would have liked to work on if she weren't graduating this year.
"I love that idea," Schneikart-Luebbe said.
Schneikart-Luebbe said she wondered if a room in Merlini Hall could be renovated for the purpose of a small, hotel-like fitness center, or if one could be installed in one of the utilized residence halls to see how much use it would get.
Coufal said he thought it was a good idea but that he wasn't sure if it would be a good use of Newman's money as of now because students have free access to the Genesis Health Club through their student fees.
Schneikart-Luebbe said that she thinks it would be helpful to offer a facility on campus so that students who didn't want to drive or who don't have cars could still have access to a fitness center.

On-campus storage
Schneikart-Luebbe said that Residence Life is thinking about transforming Merlini into a storage facility so students can rent out their own space in it for storing their things over the summer.

Enrollment incentives
The group talked about the idea of offering incentives like raffles for iPads for the first few people who applied for the dorms. On Tuesday, Residence Life sent out an email saying that everyone who submitted their housing applications by May 1st would be entered.

Inter-dorm competition
Attendees talked about incentivizing people to go to events on campus by having a competition between the dorms to see which one went to the most events, and awarding that dorm with a prize for the entire hall like a pizza party or a foosball table then entering all the occupants of the winning dorm into a raffle for an iPad.

Beata Parking
Junior Breanna Zarchan asked if Newman could set aside parking spaces in Parking Lot E, the lot behind Beata Hall, for Beata residents because many of them are having to park across the street when non-residents attending classes in Bishop Gerber park in the spots.
"That would make people so much happier," Zarchan said.
Schneikart-Luebbe said the university will consider marking off around 60 parking spaces near Beata that will be reserved specifically for the students who live there.
PHOTO: Courtesy Photo, Newman Advancement