By Matthew Clark, Guest Writer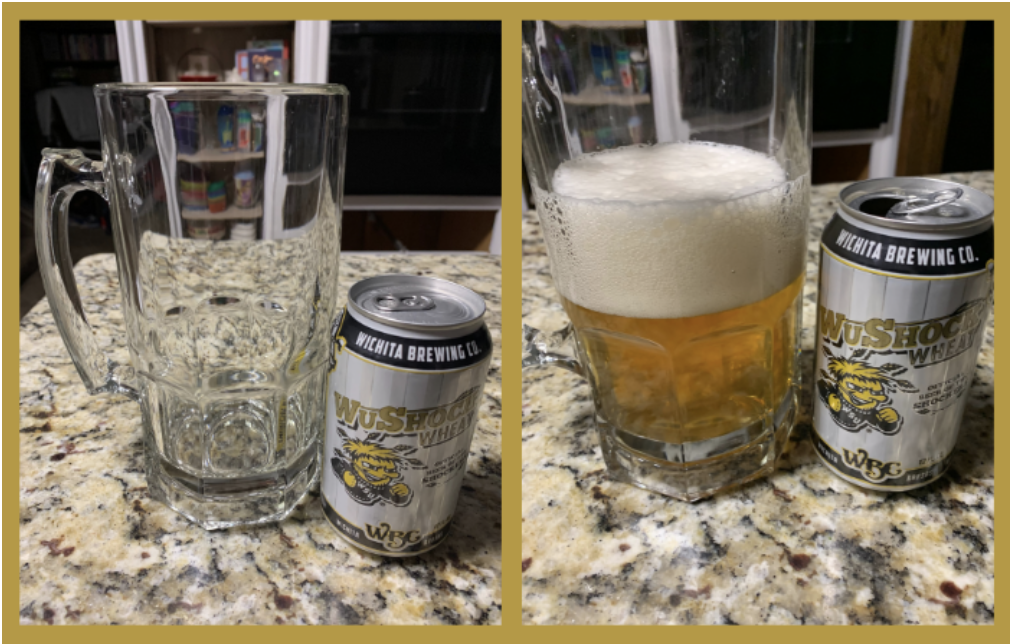 I got the chance to try some wheat beers brewed in the Midwest. Here's what I thought of two I sampled recently.
The beer I began with was a WuShock wheat beer produced by Wichita Brewing Company and labeled as a "pale wheat ale." It is the official beer of the Shockers, inspired by their mascot, WuShock. An article on visitwichita.com titled "14 Wichita craft beers you have to try" includes a brief review of this Wichitan classic:
"The American wheat ale features a well-rounded flavor profile that drinks soft and smooth. This light, seasonable beer has been custom crafted to appeal to a variety of taste buds."
Indeed, I found this beer to be just as accessible as the article suggests. I first sampled a draft of WuShock at Vagabond Café at 614 W. Douglas frequently referred to by locals as simply "The Vagabond." Even then, in more of a social headspace and less of a tasting mindset, I was stricken by its smooth mouthfeel, its refreshingly grassy aroma and light-bodied flavor.
When I was back home a few days later, I decided to drive to my local liquor store and look through the wheat beers there.
Once I returned home, I retrieved my ridiculously oversized beer mug, poured myself a can, and made observations about head, color, and aroma.
The beer's color is a pale amber, the head, a pure white—both characteristics common in wheat beers. Just as I mentioned previously, the aroma is strikingly grassy, but this is not off-putting at all. In fact, it is rather inviting.
The initial taste was light and accessible, with just enough carbonation to heighten the flavor. Mouthfeel was not especially malty, the tones of which hid safely underneath the overarching flavors of common Kansan crops. As for the finish, a gulp of WuShock left me with a smooth, rounded sensation on the palate and a gentle buzz on the tongue. Lastly, the aftertaste of yeast lingered peacefully, which put a nice bready bow on the overall experience of the beer.
Next, I sampled a bottle of Boulevard Brewing Company's Unfiltered Wheat, coming from a Missourian brewery in Kansas City.
As stated on Boulevard's website, "Boulevard Unfiltered Wheat Beer is a lively, refreshing ale with a natural citrusy flavor and distinctive cloudy appearance. This easy drinking American-style wheat beer has become our most popular offering, and the best-selling craft beer in the Midwest."
Unsurprisingly, this official description matched much of what I noticed in my first swig.
A bottle of Boulevard Wheat next to my not so ridiculously-sized glass.
Before that, however, I took in its fragrance. As taste and smell are interconnected, I noticed the breadiness and malty aroma first and foremost. To briefly note the color, it looks quite like raw honey, which is heightened by the "distinctive cloudy appearance."
What I detected previously from its fragrance became even more noticeable in my initial sip. Bready, sweet, even tangy, it bears a balanced malt flavor as well. The carbonation is gentle, the taste rich, the experience full, leaving a slight dryness and the enjoyable consequence of its "unfiltration," behind it: a yeasty aftertaste and a warm, glowing sensation on the tongue.
If you're interested in picking up these wheat beers for yourself, you can do so at Goebel Liquor, ABC Discount Wine & Liquor, or even Dillons and Walmart, as they will often carry locals. A six pack of WuShock Wheat will usually go for $8.99 while a six pack of Boulevard unfiltered wheat will be around $9.49.
PHOTO: Matthew Clark, Guest Writer