By Tyler Push, Staff Writer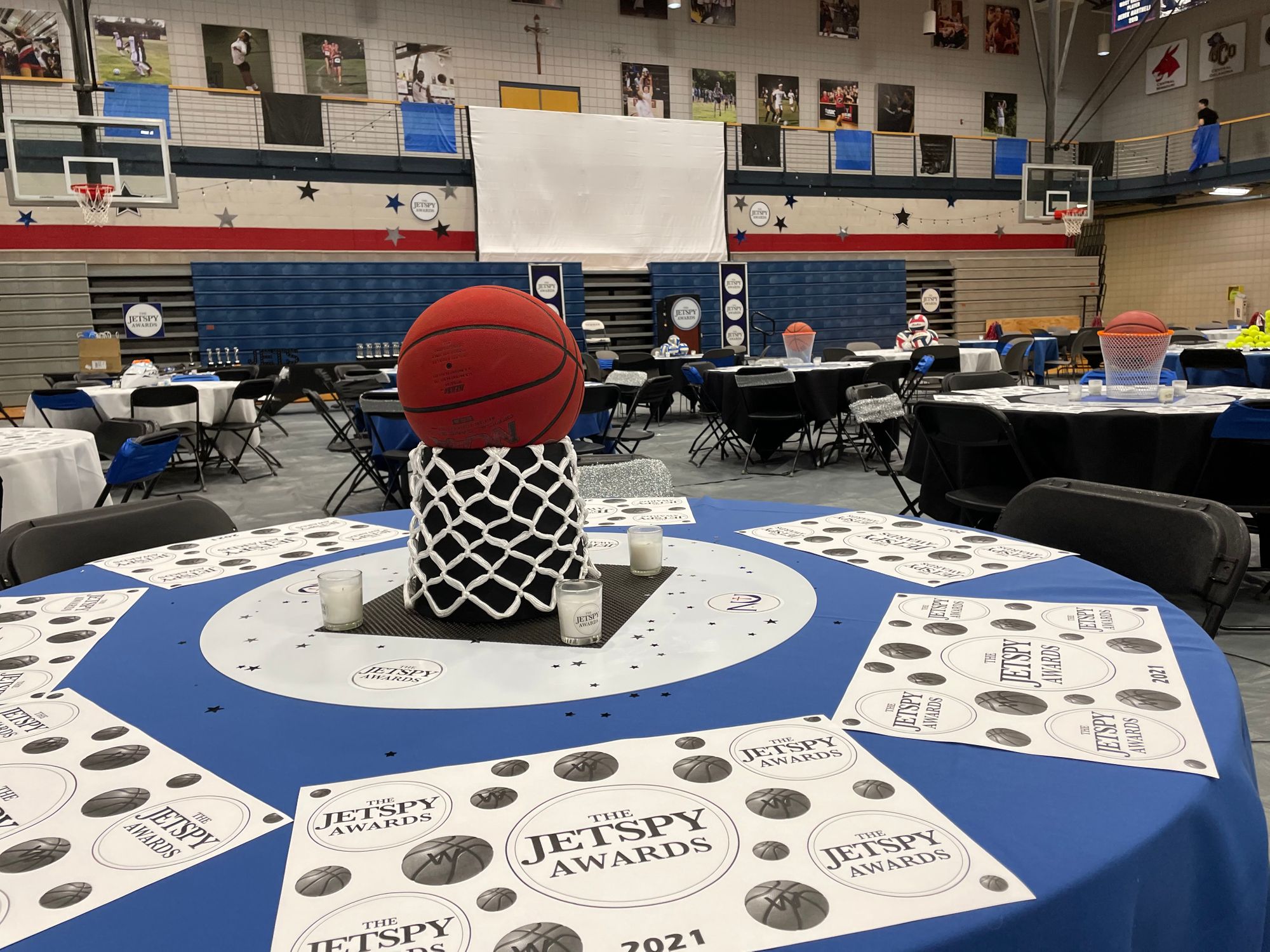 Newman's athletes dressed in their finest gathered together in the Fugate Gymnasium on Tuesday for an awards banquet intended to honor their hard work and dedication. Various awards were presented during the ceremony, including both individual and team.
The Jetspys Award ceremony, whose name is a play on ESPN's ESPY awards, began with a chicken cordon bleu and lasagna dinner served by the Newman cafeteria. Following the dinner, guest speaker and Newman alumni Sarah Balderas gave a speech.
The Male Athlete of the Year title was won by junior wrestler Kameron Frame. Female Athlete of the Year was given to junior volleyball player Trinity Conley.
The Mr. and Mrs. Jet Award is given to the athlete who truly represents Newman University. Senior baseball player Jon Coufal won Mr. Jet, and senior basketball player Haley Albers won Ms. Jet.
The Rookie of the Year Award went to freshman basketball player Sydney Nilles. The Gamechanger of the Year Award was won by junior basketball player Branden Bunn for his impressive performance throughout the season.
The Top Gun Award, given to a fourth-year senior who has contributed to the team every year was won by senior softball player Emma Eck and senior soccer player Jean Claude Consol.
Junior soccer player Makenna Schmal won Comeback Athlete of the Year. The Breakthrough Athlete of the Year Award was given to sophomore basketball player Ian Lee. Senior Katie Sullivan from cheer and dance won the Maverick Award, which is given to an athlete who shows great leadership.
Women's bowling took home two awards at the ceremony, earning the Game of the Year Award for getting first place at the Leatherneck tournament, and the Best of the Best Award for such a successful season. Men's Bowling would take home the Turnaround Team Award.
The Scholar Award was given to the women's golf team for its team GPA of 3.7. The Community Outreach Award was given to cheer and dance.
Junior soccer player Ignacio Lerech won the Performance of the Year Award for his four-goal game.
Freshman soccer player Hannah Klug won the Wingman Award, which is given to an athlete who has made a significant contribution to the team as a non-starter or reserve. The Ghost Rider Award was won by junior Steven Nguyen from the triathlon team. This award is given to an athlete who has made a significant contribution to the team while receiving no athletic scholarship.
Security guard Mo Floyd won the Special Ops Award, which is given to a faculty member who has helped and supported athletes the most. Athletic trainer Victoria Crooks was given the Supporting Role Award, which is presented to a non-athlete who contributes behind the scenes to be sure athletes can perform to the best of their ability.
Following the award ceremony, a highlight video including clips from each team was displayed on the big screen.
PHOTO: Tejay Cleland, Sports Editor