By Ty Wilson, Staff Writer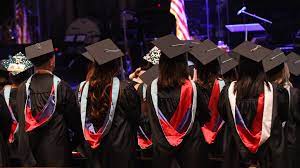 Commencement marks the end of an educational journey for many college students. The hard work they've put in over the years is finally being rewarded. With the 2021 Commencement ceremony approaching, here are a few things that you'll want to know:
The Ceremony will take place  on May 7 at Hartman Arena. Commencement for the schools of business, education and social work will begin at 10 a.m., while the schools of arts and sciences, Catholic studies, and nursing & allied health will start at 3 p.m.
Because of a need for limited attendance, each student is allowed four guests.
According to Laura Hartley, director of alumni and campus events, each student can pick up their guest tickets in the Dugan Library atrium this week. People without a ticket will not be allowed into the ceremony. In accordance with Hartman Arena policies, masks will be required to be worn throughout the ceremony and anytime while in the building.
The newest addition to this year's commencement is the Ceremonial Mace. This was the brainchild of Lori Gibbons, Newman's registrar since 2018. A mace is a long wooden staff that is often used by universities to lead graduation or other special ceremonies.
"The idea of a ceremonial mace to open graduation ceremonies is not a new one and it was a part of every institution where I have previously worked," said Gibbons.
The ceremonial mace will now serve as an ode to Newman's long history and will be used to lead commencement. Hartley said that the mace will be carried in by Grand Marshall Mark Mannette to lead the procession of graduating students.
The Ceremony will be led this year by Fr. Joe Gile, Dean of the School of Catholic Studies, who will take over the role that former Vice-President of Academic Affairs Kimberly Long held when she started with Newman in 2016. Long recently resigned.
Other notable events set to take place during the ceremony is the Keynote Speech from Dr. Sarah Evans, the recipient of the 2019-2020 Faculty Teaching Excellence Award. Bishop Carl Kemme also will be awarded an honorary degree.
PHOTO: Courtesy Photo, Newman Advancement