By Madeline Alvarez, Editor-In-Chief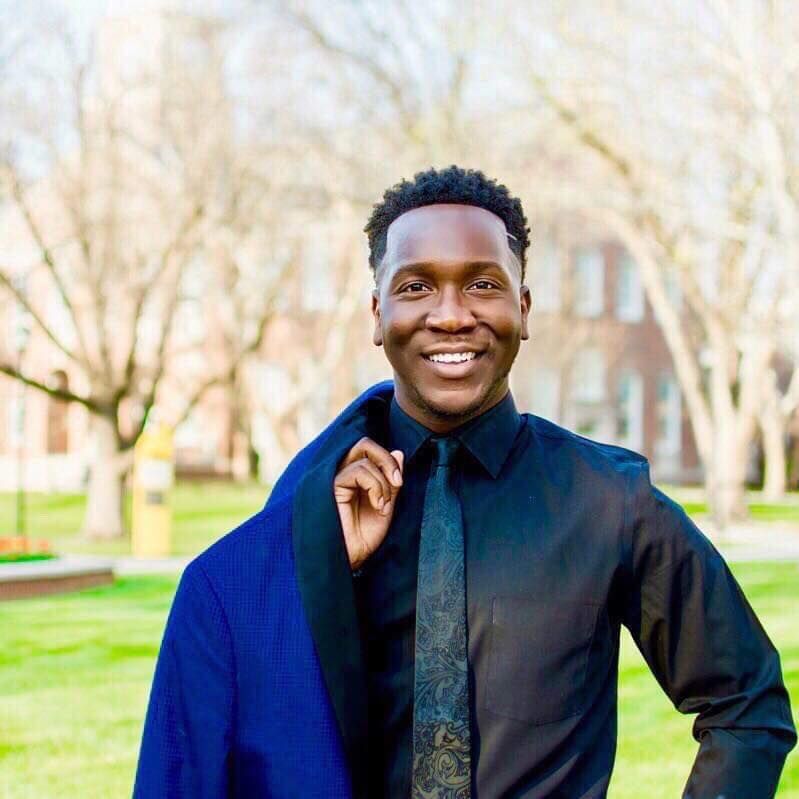 Joseph Shepard, director of multicultural engagement and campus life, has resigned. His last day will be June 1.
"I know that I have to use the word resign because technically that's the word," Shepard said. "But if I could call it anything, I'm leaving to serve Newman students at a greater level or a bigger capacity. And that's how I look at it: I'm not leaving the students. I'm just moving to a higher level so I can serve them at a greater capacity."
Shepard said is not ready to share exactly what and where his new job is. He said he will still work with college students and that he will travel across the state.
"I did not go seeking this opportunity. This opportunity found me," he said.
The goal of his job is to help persuade Kansas college graduates to stay in the state. A lot of young people are leaving the state, he said.
"This position will grant me the opportunity to work alongside organizations and institutions to retain our young and diverse talent across our state," Shepard said.
Shepard said the organization he will work for shows graduates how they can impact their home state instead of leaving to find opportunities elsewhere.
Shepard said he will work to help Newman graduates in his new job, too.
"We have students [who] come in as freshmen, and they say, 'I want to be a doctor,' and unfortunately it doesn't work out," Shepard said. "They don't get into med school or they have to take a gap year, and they say, 'Well, what am I going to do now?' Well, let me show you what you can do. We have health disparities all across this state. So let's connect you with an entity that's doing this work and that will allow you to get your hands dirty to gain the experience, make a difference in the communities that you love and also prepare you for the world that awaits after."
Shepard said he will be the first person to fill this role within the organization, just as he was the first person to fill the role of director of multicultural engagement and campus life when he came to Newman in 2018.
Shepard said his favorite memory from Newman has been watching the students grow. He still has the first note he received from a student on his desk. The note was a response to a question he had asked students during a meeting when he had first assumed his role at Newman: "What do you want out of a director of multicultural engagement?"
The student's note said, "We need more outspoken support from administration towards underrepresented communities."
"I kept this note with me every single day to remind me of the work that I was called here to do," Shepard said. "And so, to go from in 2018 arriving and knowing that that was the void that students felt, and now being in 2021 where we have a Diversity Roundtable Ambassadors organization, we have students of color who believe that they belong on this campus, we have an outgoing Haitian-American student body president who's a woman and an incoming African-American woman, I think that says a lot about the work that we have done to transform minds."
He said that there is still much more work to be done, however.
The accomplishments Shepard is most proud of, he said, are the creation of the Pay-It-Forward Fund for students who need help with rent or other hard situations, the creation of the Diversity Roundtable Ambassadors organization, and the partnerships he's been able to make between Newman and the Wichita community like Rise Up for Youth and the Kansas African American Museum.
"We were able to land a student in Rise Up for Youth a $63,000 scholarship over the course of their four years coming here, that came by virtue of the relationships that we did with that organization," he said.
Shepard said that the university will start a search process soon to fill his position. The next person who fills his role should be persistent, he said.
"I think particularly for me as a person of color, it's been hard to navigate some things on campus, I'm going to be just honest," Shepard said. "But because I've been persistent, I've been able to accomplish a lot of those things. I think we as an institution still have a little bit more work to do, a lot of more work to do, when it comes to people understanding the value of diversity, equity and inclusion, and not just race, but…sexual orientation, religion, all of that."
Shepard said his job at Newman has been challenging and rewarding.
"It's pleasurable because you get to reap the benefits of seeing students evolve and seeing the growth and expanding and building the framework," he said. "It's a price because sometimes these are tough conversations that you have to have, and they're mentally taxing and emotionally taxing particularly for people of color because they're living these experiences so they know that this work is important, but not everybody sees it that way and so that can sometimes be tough."
Christine Schneikart-Luebbe, dean of students, has worked with Shepard since she was the dean of students at WSU and he was a student there. She said that when Shepard announced at a Registered Student Organization meeting that he was leaving, "many tears were shed."
"Students talked about how much Joseph has meant to them during their collegiate journey," she said. "I am so proud of the work he has done at Newman University and he will be sorely missed by many, including me."
PHOTO: Courtesy Photo, Joseph Shepard