By: Tyler Push, Sports Editor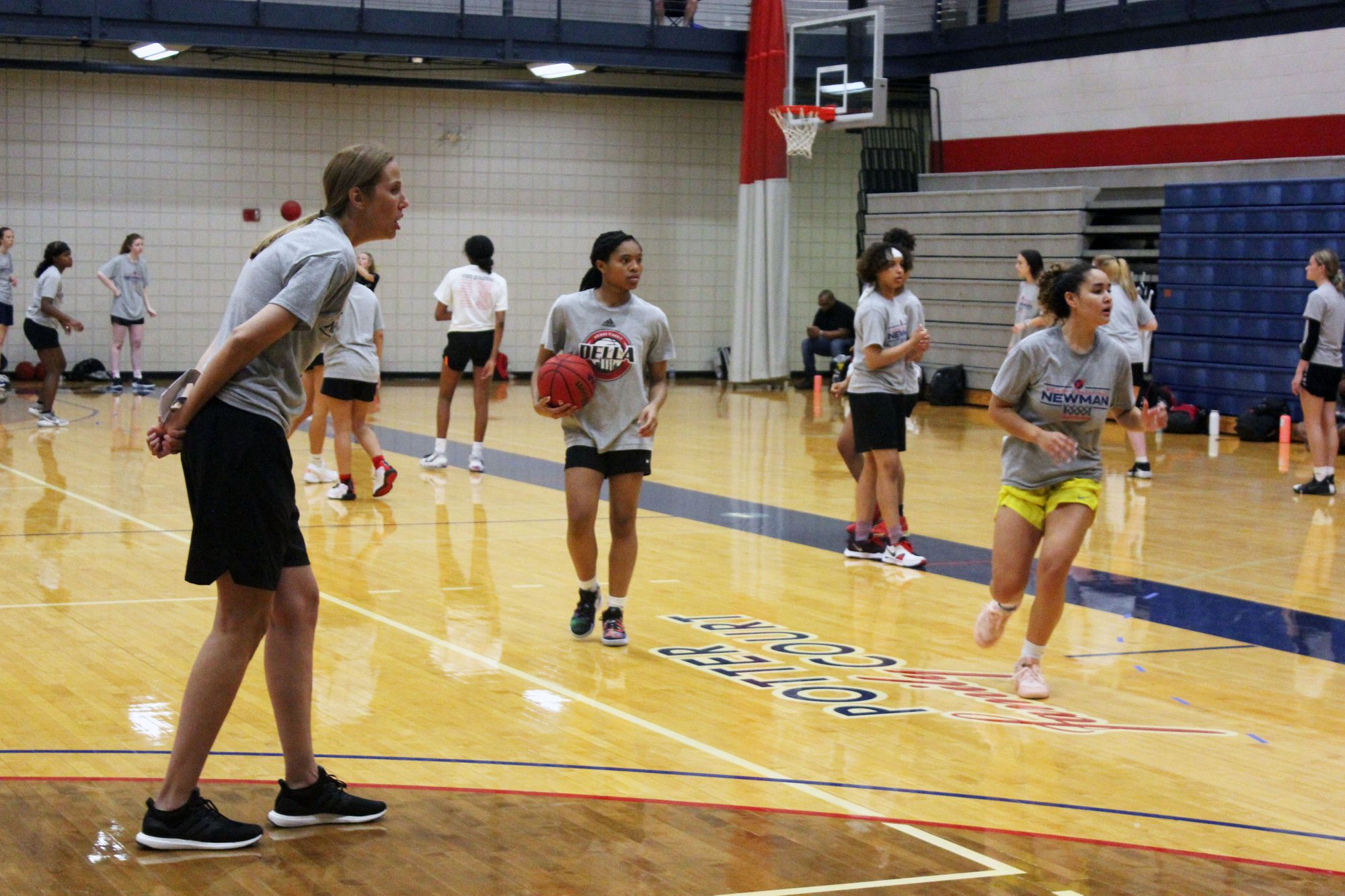 Newman University's women's basketball team has a new head basketball coach.
Or rather, it has new head basketball coaches.
Drew Johnson and his wife Nicole Ohlde-Johnson were named co-head coaches of the Lady Jets over the summer, and they aim to bring their past success to Newman University.
The coaches replace Darin Spence, who resigned last spring after nine seasons leading the team. The signing marks the first time that Newman has ever had co-head coaches in any sport.
Drew Johnson comes from Bethel College, where last year he led the team there to its first ever NAIA National Tournament appearance. Nicole Ohlde-Johnson is a former WNBA star for both the Phoenix Mercury and the Tulsa Shock who also has her number retired at Kansas State.
The Johnsons have done their recruiting of 10 new players and blended them with six returning Lady Jets.
"One of things that we have been pretty passionate about is trying to bring everybody together," Drew Johnson said. "It isn't the previous coach's players and our players, but it is one program and is going to have to be that way to be successful."
Getting to coach alongside his spouse has allowed for a very family-oriented atmosphere that keeps the two on the same page, Drew Johnson said.
"I lean on her a lot for her expertise, her wisdom, and her experiences," he said.
Nicole Ohlde-Johnson was an assistant coach at Clay Center High School for the girls basketball program for four years. She also coached alongside Drew at Bethel College as the assistant coach for four years.
"I have been around the game of basketball for a while now and have seen different coaching and player styles," she said. "These experiences I have will help me relate to the players and help them in whatever way they need."
The two plan to use this synergy to help the Lady Jets find success.
"We do not talk a lot about wins and losses because we feel like that kind of stuff takes care of itself when you do things the right way," Drew Johnson said. "How hard are we willing to push each other? How hard are we willing to push ourselves? And just try to grow a little everyday and see where we get to."
Drew Johnson said he has found that the most important factor in winning is having a great group of players.
"Players that are willing to sacrifice themselves for each other and sacrifice individual accolades for the good of the team... that is what It always takes in order to be successful."
Drew Johnson said that he expects this team to bring the same effort and intensity level every day and to understand that if the team members can be there for each other, it will give them a chance to win on the court.
Off-the-court excellence is also a part of Drew Johnson's expectations.
"We want to be great people on and off the court. We want to be successful in the classroom and take care of people by serving others," he said.
Drew Johnson said that he looks forward to supporting other athletes and teams on campus and to helping make Newman a fun place to compete as an athlete.
The women's basketball team will open its season on Nov. 13 with a home game against the Wayne State Wildcats.
PHOTO: Courtesy Photo, Newman University Twitter