By: Madeline Alvarez and Minh Nguyen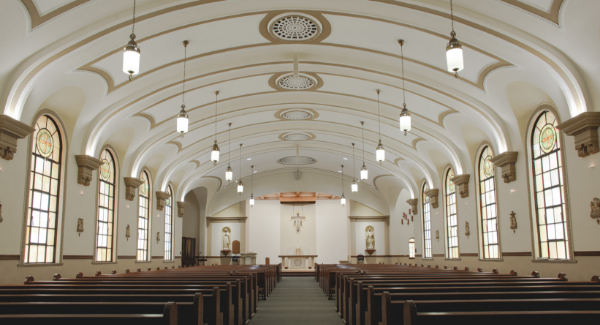 Newman's new Spiritual Companioning Initiative, aimed at helping Newman students grow in their spiritual lives, is being introduced to campus clubs, organizations and sports teams this fall.
University Chaplain Father Adam Grelinger said that Newman President Kathleen Jagger came up with the idea for the initiative and brought it to Grelinger and Director of Mission Effectiveness Sister Therese Wetta over the summer.
In the past, Newman sports teams had been assigned faculty mentors. Grelinger said that Jagger wanted to add a spiritual facet to that.
The new spiritual companions are asked to pray for their group's members and to be available for students to reach out to if they want help in growing their faith or have a prayer intention.
Ideally, Grelinger said, the spiritual companions will meet with their groups at least twice a semester to pray with them.
"If it's more, then great," Grelinger said.
Grelinger said that he and Wetta are working on connecting the advisors of the clubs and organizations with the spiritual companions so that each group can arrange what time works best to meet with their individual spiritual companion.
Those who will be serving as campus organizations' spiritual companions are mainly faculty, staff, alumni, the Adorers of the Blood of Christ and priests of the Wichita Diocese.
Grelinger's mother, Melissa Grelinger, is the Vantage's spiritual companion. She was on the Vantage staff when she was a student and is a prayerful person, so Grelinger and Wetta thought she would be a good fit, Grelinger said.
Father Ed Herzog is the spiritual companion for the golf team.
"He was a golf player when he was a student," Grelinger said. "And so there's kind of some fun connections."
One of the benefits of attending a Catholic institution, Grelinger said, is that students have the opportunity to develop their spiritual lives.
"We want to educate the whole person, and not just for a career path or for some specific skill," Grelinger said.