By: Tejay Cleland, Editor-In-Chief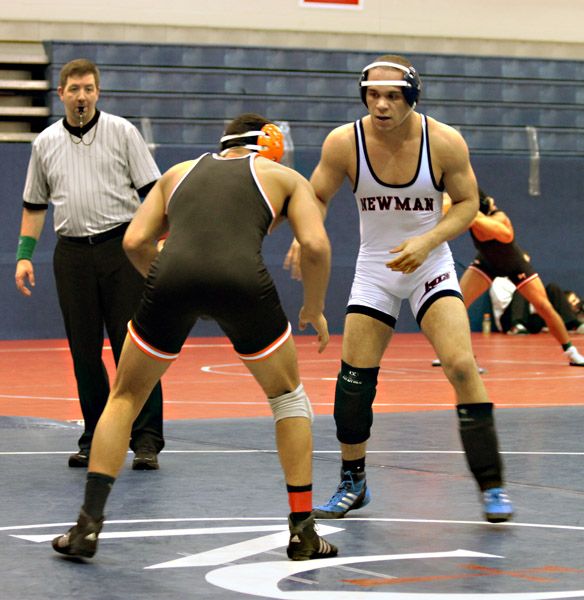 Newman University lost a part of its community on Sept. 3, 2015, when wrestler Reece Wright-Conklin died in a motorcycle crash at the age of 21.
But now, six years later, a person who was a big part of Wright-Conklin's life has found his way into the same wrestling program that Wright-Conklin was a part of.
Wright-Conklin was close to freshman Caleb Streeter's family before he died. Streeter's father Randy Streeter is the founder of Sunflower Kids Wrestling Club, which Wright-Conklin competed in growing up. The Streeters became like family to Wright-Conklin.
"He was like an older brother to me," Streeter said. "When he didn't have the people in his life that he needed, my parents took him in to our house. He just treated me and my brothers like an older brother I never had."
When the accident happened in 2015, Streeter was only in middle school. Now, six years later, Streeter is wrestling on the same mats that Wright-Conklin did and said he feels that it is for a bigger cause than just wrestling.
"It's awesome. My dad loves it. I love it," Streeter said. "I feel like I have something to give back to from his passing."
Head wrestling coach Ryan Smith said he is thrilled that Streeter is now on his team.
"We're excited as heck that Caleb is here. It's like a full circle type of thing," Smith said. "But it is a little heart wrenching. There are a lot of cool parts to it, but there is a lot of sadness to it too."
Wright-Conklin battled knee injuries for the majority of his Newman wrestling career. He was finally at 100% for his last year of eligibility when he died.
"It was his redshirt-senior year when he was raring and ready to go, and we were all excited for him," Smith said. "He was that guy who was just a natural leader. When he walked into a room, people just went towards him. He was just a phenomenal individual, and then you watched him wrestle with his meanness and grittiness. He was just an incredible dude."
Even six years after the accident, Smith said that Wright-Conklin still has an influence on his team.
"Reece touches us every day," Smith said. "Everytime we walk in the room, we see him looking down on us"
Caleb said he feels Wright-Conklin is still watching over him as he continues his wrestling journey
"He would tell me to work as hard as I can and work better on my feet," Streeter said.
PHOTO: Courtesy Photos, Newman University Magazine