By: Brenden Schwartz, Staff Writer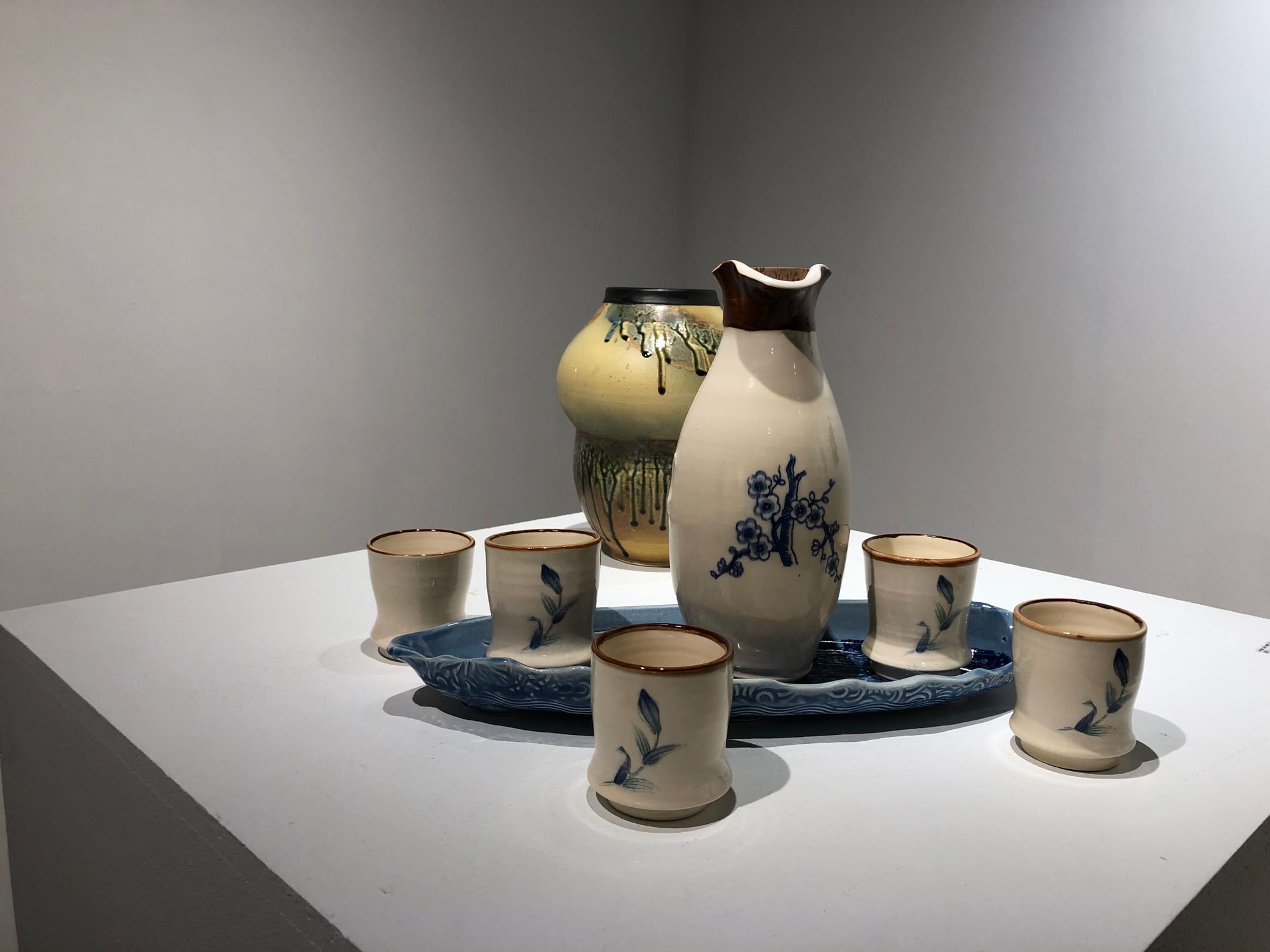 The Steckline Gallery's current exhibit, called "What's NU," features works by Newman faculty members. Professors Lisa Kellerby, Cary Conover, Shannon Johnston, and Frank Martinez all have work on display.
Shannon Johnston, who is the director of the Steckline Gallery, located on the lower level of DeMattias, said she thought that an exhibit containing works local to the Newman community would be a great way to start the year.
A variety of medians are included in the show, including paintings, pottery, photography, embellished skulls and encaustics.
Kellerby has been an adjunct art history instructor at Newman University since 2006. She said she is honored to have her work displayed alongside the work of her colleagues.
Kellerby worked as an automotive airbrush artist, muralist, and sign painter in her youth. She said she paints in a realistic style, embellishes cow, buffalo, and elk skulls, and has recently gotten back into oils.
Kellerby's interest in animal skulls stems from collecting them in her grandpa's pasture when she was a girl, she said. She said her art style reflects her interests in literature and art history. She even has an article in the Newman Library Journal, Archaeopteryx, which analyzes death imagery in William Shakespeare's "Hamlet."
Kellerby is inspired by Memento Mori and Vanitas artwork, which represent inevitable death and the journey of life, she said. Her paintings "Fire Echo" and "Night Blaze," which are on display in the gallery with her skulls, deal with this concept of life and death because although fire destroys, the ash it leaves fertilizes the soil, Kellerby said.
Kellerby's paintings and embellished skulls are for sale. They can be found on display at various exhibits around Wichita but if interested the best way to contact her is by email at kellerbyart@gmail.com.
Conover is an adjunct photography instructor at Newman University. In the fall, he teaches a course on traditional analog photography (darkroom photography) and in the spring, he teaches a course on digital imaging. Conover likes to over-conceptualize with his photography, he said, and he enjoys the idea of straightforward documentation of places and capturing urban landscape photography.
In the gallery, Conover has a display of some of his older and newer pieces. Some of his older works, like "Behind Crown Uptown," use more of an improvisational street photographer approach while in his more recent works like "Calvary Hill Church" he's switched to a large format for a more formal feel, he said.
Conover said that it feels good to have his work on display at Newman and that Johnston does a great job at promoting the exhibits. He has a lot of fun at the Art for Lunch talks because he appreciates having an attentive audience, he said. Conover's artwork is all for sale. Any of his work can be printed to any size, while his larger pieces he keeps in his studio. A lot of his work is on permanent display at The Belmont, a restaurant on East Douglas.
Johnston has been an assistant professor of art for three years and director of the Steckline Gallery for four years at Newman. She said she believes "art is a language spoken without words that can reach past rhetoric and to deep, personal, emotive spaces in the soul of both the artist and the viewer."
She specializes in painting and drawing but has worked in all different mediums, she said. The works she has on display in the Steckline Gallery are encaustic on panels with found objects.
Johnston loves "working with found objects as they bring a history and story to artwork" that she gets to add to, she said. Encaustic is a type of painting that uses melted wax as a binder. In her works at the gallery, pieces of maps, recipe books and cross stitching can be seen.
The inspiration for these pieces such as "Middle Child Middle Seat," "Sampler," and her "Making a Maker" series stems from her childhood, she said. When she was little, her mother and grandmother taught her crafts such as cross-stitching, cooking, and jam-making, she said. Johnston said those experiences taught her the value of making things to share with others, and although she wasn't always making art during those times, she believes those experiences shaped her into an artist.
She loves sharing her work, especially with her students and colleagues, who don't normally get to see that side of her, she said. Johnston's works are available for purchase on her website shannonmariejohnston.com.
Martinez has pottery on display that he made and has prices listed along with them for those who are interested. Martinez just had surgery and was not available for an interview but his work is available for all to see in the gallery.
PHOTO: Brenden Schwartz, Staff Writer