By: Madeline Alvarez, Managing Editor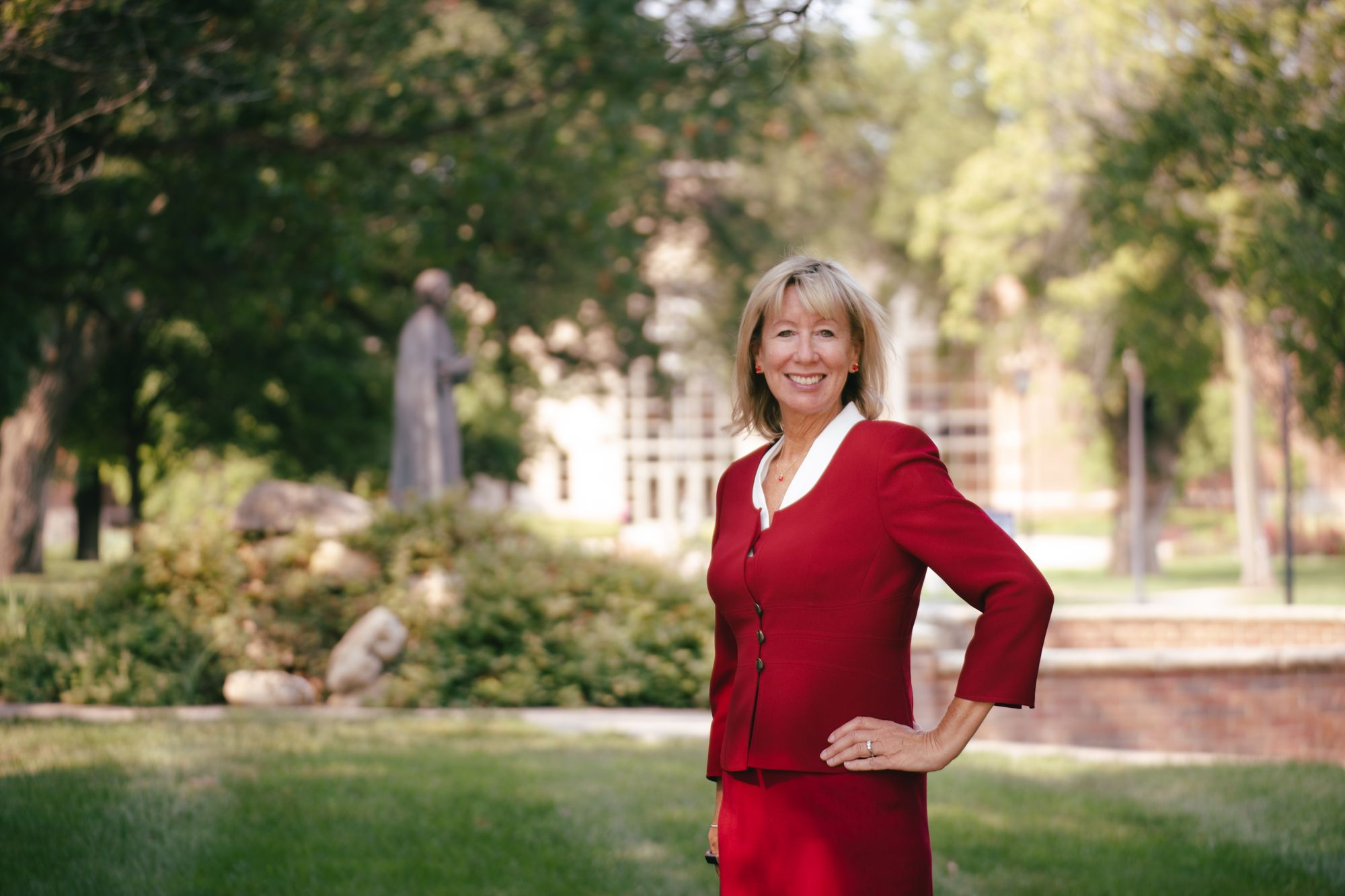 Dean of Students Christine Schneikart-Luebbe has accepted the position of Vice President of Enrollment Management and Student Success.
Paul Carney previously filled this position, but he is retiring, Newman President Kathleen Jagger said.
Schneikart-Luebbe's first day on the job was Sept. 13. In an email, she said she is excited for her new role.
"I have felt lots of support from our campus community throughout the search process and I'm grateful to each faculty and staff member who encouraged me," she said. "I have also felt tremendous support from the ASC sisters and I am beyond grateful for their prayers and encouragement. Schneikart-Luebbe will be working closely with the admissions team, the financial aid team, athletics and Student Affairs.
While the search for the new dean of students is open, Schneikart-Luebbe will continue in her duties in that role as well, she said.
Schneikart-Luebbe will be involved in the search for the new dean of students and will be stepping away from her role as SGA advisor, she said.
"I have loved my time advising SGA at Newman," she said. "The relationships I have formed with our current senate and the previous three senates has been a profound blessing in my life. I will miss working directly with them on a daily basis, but we look forward to remaining connected."
Jagger said that she believes Schneikart-Luebbe is the best fit for the role of enrollment management and student success and is excited to have hired her for the role.
"She has a lot of experience in Enrollment Management and Student Affairs. I think she's the kind of person that can really put it all together," Jagger said. "Part of the reason we did that is that separating who you recruit from how you help them develop while they're here seems like a kind of artificial separation. And if it's all under the same person, then there's actually I think maybe a little bit more incentive to recruit people who are a good fit here, because then their success is part of how you're evaluated too. It's not just getting bodies here. It's getting bodies who belong here."
Schneikart-Luebbe echoed that thought.
"We are looking for students who want to live our mission," she said. "Our faculty and staff are all committed to empowering our students to transform society."
Schneikart-Luebbe said she believes the Navigator program is a valuable tool for getting the right students at Newman.
"I look forward to working with our faculty to promote this important program, which really gives Newman a unique niche that we can market to prospective students and their families," she said.
Schneikart-Luebbe said she has already been involved in starting new projects in her first week of being the vice president of enrollment and student success.
"We have already initiated a weekly email communication entitled Admissions in Action. This will help educate our campus as to where our staff are recruiting on a weekly basis," she said.
In addition, she said, Admissions hopes to initiate breakfast meetings with various departments on Wednesday mornings in the cafeteria.
"The agenda will be very simple," she said. "What can Admissions do for your department and what can your department do to support our recruitment efforts?"
Schneikart-Luebbe said she also hopes to build pride on campus.
"Newman University recently learned that we are listed on Forbes Magazine's new list of America's Top Colleges. We are one of five institutions in Kansas and one of two private institutions. We want to spread awareness of these types of designations because we all contributed to the process of being selected," she said.
Newman also hopes to better involve its alumni with recruitment efforts, she said.
"We know we have many successful alumni around the world and we want to call upon them to be partners with us in the recruitment of future Newman Jets," Schneikart-Luebbe said. "They know firsthand the value of a Newman education, we want them to help us tell our powerful story."


PHOTO: Courtesy Photo, University Relations