By: Brenden Schwartz, Staff Writer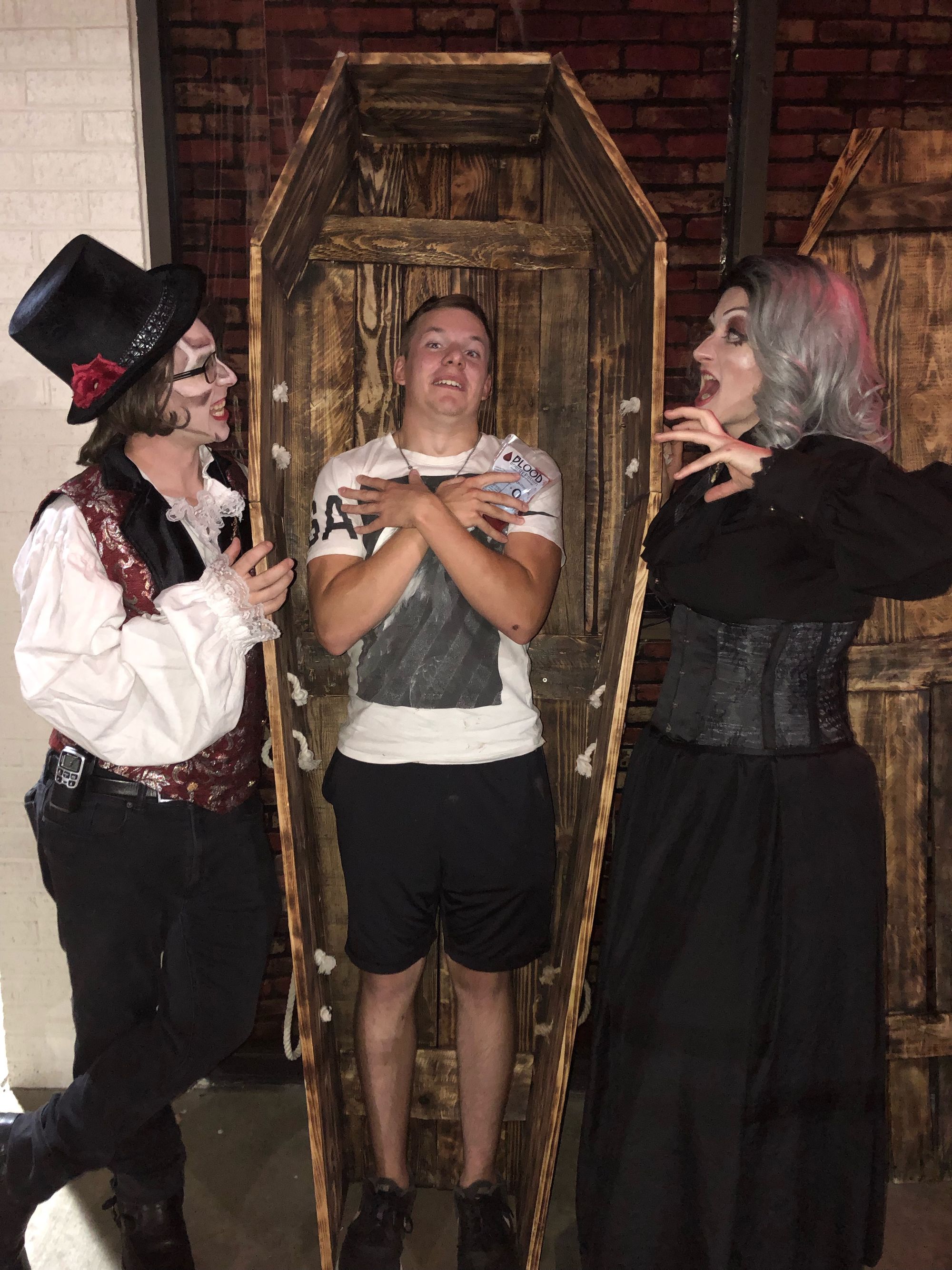 If you like Halloween and you enjoy a good speakeasy, you may want to check out Apparition, the limited-time "spookeasy" located at the intersection of Woodlawn and 21st Street.
Apparition is a Halloween-themed pop-up bar by Headshots Bar and Grill, Wichita's most popular gaming bar, and it operates next door in the bar's Table Top Java Shop.
The bar, which is open through Halloween night, has a vampire theme this year and is decorated to look like Dracula's Castle.
When I arrived at Apparition with my brother and our girlfriends, we were greeted by a friendly yet haunting vampire who told us this bar was made "by the dead and for the dead." She explained the rules of entry and that there were no phones or any sources of light permitted inside the bar because it was pitch black inside and the dead don't do well with the light.
She handed me a lantern and opened the door, and we ventured into a room as dark as night. We walked through the black maze filled with fog and spooky things until we saw a red light. When we got to it, we pushed past the curtain and found ourselves in the dining hall of Dracula's castle. A vampire greeted us at the bar and offered us a menu of 13 "bloody" drinks. After we put in our order, he sat us down at a coffin-turned-table and brought us "spooky" water.
The room was filled with smoke. I'll refrain from describing the castle in too much detail because it truly is a visual experience that you should see for yourself.
The drinks were unique and catered to the vampire theme. I ordered the "Hemophage" which had a strong bite of brandy and blackberry overtures. My girlfriend had the "Vlad the Impaler," served in a goblet with a not-too-sugary fruity flavor topped with shish-kabobed gummy bears.
My brother treated himself with the "Hellsing," which he said tasted like "a sweaty man that hunts vampires." This drink is for those who like bold flavors. His girlfriend ordered the "Show Me Your Teeth," which was slightly fruity and smooth but had plastic vampire Halloween teeth floating inside.
The 13th drink on the menu is a "Type A Blood Bag" that patrons can order to-go if they so choose. The drink comes in a pouch meant to look like a hospital blood bag and it tastes quite delicious.
I had a chance to talk to a couple of vampires and get a little more insight into their business.
One of them was Revard, the owner of Apparition himself. Revard hosts the seasonal bar by not only dressing up in character but by also seating and serving all the guests. He mans the bar with some help on the busier nights, but I went on a Thursday when it was just him.
The vampire outside the bar was Revard's girlfriend Mickie Parker. She said she spends most of her time prepping their seasonal bars and getting them ready. She enjoys getting to dress up and put together something that can entertain people, she said.
Parker said that, generally, Fridays and Saturdays are the busiest nights for the pop-up bar and that you'll typically have to wait in a 30-minute line.
I asked her more specifically about the no cell phone rule, and it's all about the atmospheric experience, she said. Parker said using phones or other devices may take you or other guests out of the experience because the light will affect the eyes, but it is also to prevent the event from being spoiled for anyone who hasn't yet visited.
Revard said he tries to do a pop-up bar every season and that he and his girlfriend usually come up with a theme when they are just chilling at home. Last Christmas they did a "Nightmare Before Christmas" theme, and in the spring they did a Mad Hatter's Tea Party theme.
This Christmas, they'll present a Harry Potter Yule Ball theme inspired by the "Goblet of Fire" movie, and in the spring the bar will have a Valhalla: Vikings and Valkyrie theme.
The staff puts in a lot of work to make sure all patrons have a good experience at each pop-up bar. James Walker, the general manager of Headshots, gave me a tour over the summer of the behind-the-scenes work they put into them. He said they go to every yard sale or flea market they can just to find authentic decorations for the events.
Revard says they rely entirely on word of mouth and would like all who enjoy the bar to encourage their friends to go. There is no entry fee to get inside Apparition, but they do ask that you purchase at least one thing while you are there. The bar is open on Thursdays, Fridays and Saturdays from 6 p.m. to 1 a.m. The pop-up bars are only open for a month at a time. Apparition Dracula will be closing at 1 a.m. on Halloween night. This is the only Sunday that they will be open. Anyone who goes to Apparition gets a free game pass to Headshots.
Headshots was awarded Wichita's small business of the year award in 2019. For just $5 you can play any video game, and there's no time limit. The business offers a wide variety of games on the Nintendo Switch, Wii, GameCube, Xbox 360, PlayStation 4 and PC as well as a few arcade machines. It also has a pool table, a collection of pinball machines, more than 500 board games and a spend-to-win Dragons table.
Customers are always welcome to bring their own games. I've been there a few times, and it's a great place.
PHOTO: Brenden Schwartz, Staff Writer