By: Joshua Robles, Guest Writer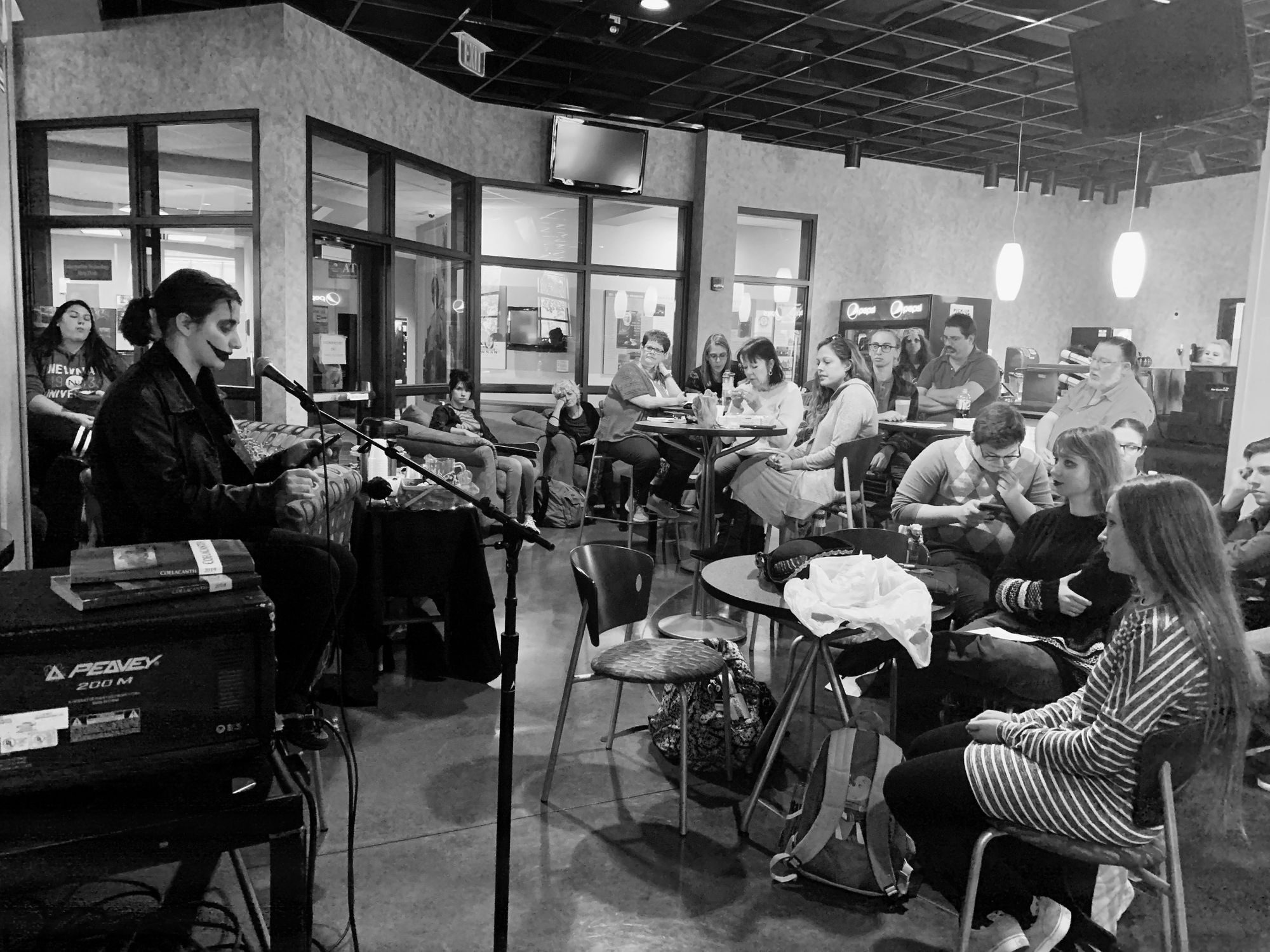 Open Mic, an event that serves as a creative platform for singers, poets, artists, musicians, and anyone member of the Newman community who wants to share their thoughts, returned this semester after a yearlong break during COVID-19.
The event, which was started in 2018 by students who wanted a way to share their poetry, has grown into an event that, before COVID, would draw 30-40 people to each session. Since returning this semester, the events have attracted crowds of about 15.
Open Mic events are hosted by senior Matthew Clark and overseen by Dr. Susan Crane-Laracuente, English professor. It first started in April of 2018, said Digital Content Specialist Amy Emerson, who was a Newman student at the time. Emerson and some other students came up with the idea one day in a class, when they discussed "how cool it would be for a place for students to share thoughts and poetry," Emerson said.
Emerson and the other students then brought the idea to Crane, who agreed to advise the group.
The venues for Open Mic have changed over time.
"It was first at a coffee shop in the library, then the theatre, and now in the Steckline Gallery. It's open to everyone from students to faculty and staff," she said, adding that alumni often attend as well. Snacks like Capri Sun, chips, and fruit snacks are served and are free to anyone who attends.
Open Mic is a diverse and ever-changing environment where you can always see, hear, or even meet new people, Crane said.
At the most recent Open Mic event on Oct. 12, around 14 people attended, including three judges, some faculty and staff and students. Six people went up to the microphone and shared their art.
Clark opened up the event by greeting everyone and explaining what Open Mic was. He then opened the floor, saying that "whoever wants to come up and now share they can".
First to go was Trevor Farney, an alumni who attended the event and who has an alter ego he likes to use when performing and singing. His alter ego goes by the name Vincent.
"Hi my name is Vincent the Second," Farney said to the audience. "I'm a sophomore at Friends University."
He then performed an original song called, "I'll Be Your Entertainment," which he said he wrote about his girlfriend. He sang it while playing the guitar, and much of the crowd seemed to enjoy it as there was much clapping and snapping once he was done.
After everyone had performed, the judges went outside to choose a winner for the prize, which was a gift card. Meanwhile, Clark stayed inside and thanked everyone for showing up. The judges came back in and said that the winner was a girl who shared some quotes and collages from her personal journal.
Many of the students who attended said they went to Open Mic because it is a welcoming environment where they can share their thoughts and that that is why they keep coming back. Some even said they like to attend even when they don't have anything to perform or share; they just like to go for entertainment and because of the cozy, chill atmosphere of the event.
"I came because I had heard about it and was like, 'Why not?' So I just came to share my songs," Farney said.
There are three open mic events spread out each semester. Students who want more information about Open Mic can speak to either Clark or Dr. Crane. The next event is from noon to 1 p.m. on Nov. 16 in the Steckline Gallery in DeMattias.

PHOTO: File Photo