By Tejay Cleland, Sports Editor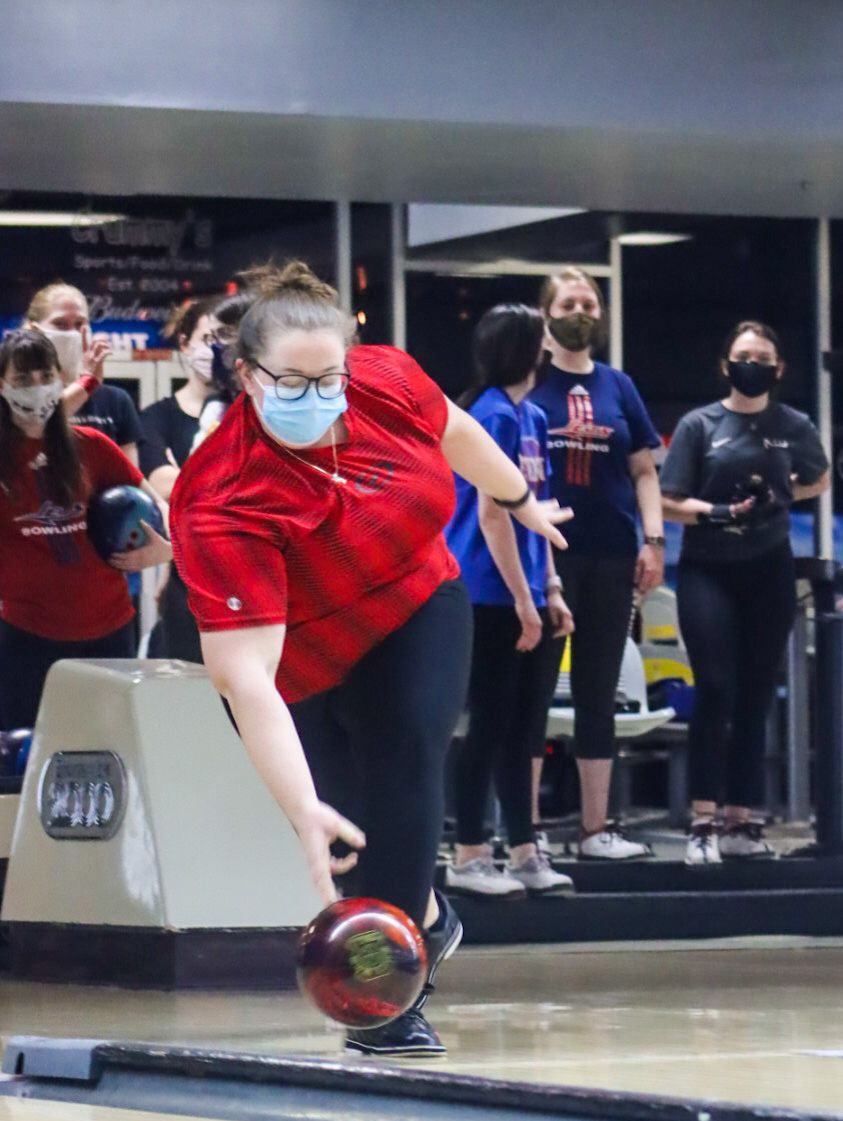 When the University of Maryland Eastern Shore announced its sports teams would not compete during the 2021 spring semester, sophomore bowler Morgan Cooper knew she needed to transfer if she wanted to play. She did just that when she came to Newman University over winter break.
Since she's arrived the Jets' women's bowling team has started strong, taking home a first-place finish in its first tournament of the year. Cooper has led the Jets in scoring average in two tournaments.
The Division I transfer bowled in 32% of UMES's frames last season with an overall average score of 187.4, according to the UMES website. Cooper said she has bowled a perfect 300 game twice in her career.
Cooper said when she found Newman she knew she would like bowling under coach Billy Murphy.
"After my school's athletic department shut down all athletics…I decided to go ahead and make the jump and see where it took me," she said. "I knew Billy Murphy and his coaching style, and I knew it would be a good fit for me. So I reached out and he told me he had a spot for me."
Cooper traveled with the Jets on Jan. 23 and 24 to compete in the SWIBC I and II tournaments in Dallas. The Jet's women's team took first place in both events. Cooper finished first individually in the SWIBC II, averaging a score of 205 on the weekend. She received all-tournament honors in her first weekend with the Jets.
Cooper said she was happy she could contribute to a first-place finish, especially since she started the tournament off shaky.
"That Saturday was my first time bowling with the team and I had only met them three weeks prior," Cooper said. "Saturday didn't go too well for me personally, but we bowled great as a team. Sunday I ended up winning the individual side of the tournament, so I am happy with the results."
The Jets competed Feb. 6 and 7 at home in the Midstates Championship. Cooper led the Jets to a sixth-place finish as she finished 15th overall individually, bowling an average score of 189.2. Junior Madelyn Conrad came in 17th in the tournament, while junior Destiny Truly came in 21st.
The Jets' men's bowling team came in third place in the tournament with sophomore James McIver leading the way with a 14th place finish bowling average of 197.8. Sophomores Chasten Pojas and Tanner Vogel finished 17th and 21st respectively.
The Jets' bowling teams will be competing next at the Lion Classic in St. Louis Feb. 27 and 28.
PHOTO: Michael Alvarez, Staff Photographer